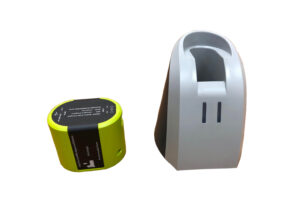 NBS designs and manufactures a full line of custom LiFePO4 / Li-Ion / Li-Polymer battery chargers for a variety of commercial, industrial, and military applications.
CCCV – Constant Current Constant Voltage
CCCV is the recommended method of charging for Li-ion batteries. The concept is based upon applying a Constant Current charge until the voltage of a battery pack arrives at a level corresponding to either 4.1 or 4.2V/Cell for Lithium Ion, or 3.65V for LiFePO4. Then once at the proper charge rate, the charging method switches to a constant voltage method with a termination when the charge current drops to a very low value.
---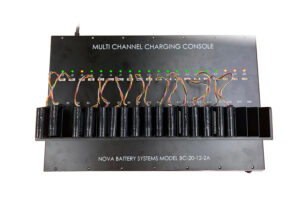 Multi-Channel Li-Ion Charging Console
NBS' Multi-Channel 4S1P Configuration 20-port Charger is contained in a compact rugged sheet-metal enclosure for benchtop use. The unit accepts universal AC input, which is converted to 24 VDC to power 20 individual charger ports with interface connectors for the battery packs.  Each port can provide LED indications for the battery pack being charged in terms of battery pack fully charged and battery charging fault. Each individual battery port also monitors the thermistor inside the battery pack for safe charging temperatures. The charger is designed to comply with European RoHS Directive 2011/65/EU. The battery charge is characterized by the following features:
Portable and light weight unit which can be easily transported and quickly deployed.
Up to 20 battery packs can be charged simultaneously.
Each charger channel is stands on its own as independent circuit.
Visual indication provides battery charging status.
All hardware used is stainless steel type.
Metallic housing for durability and use in severe environment.