Nova Battery Systems (NBS) is a division of Technology Dynamics Inc., a multi-divisional company specializing in power conversion and power solutions for industrial and military applications.  NBS's specialty is the manufacture of custom battery packs, custom re-chargeable battery packs, and custom battery chargers.  Founded in 1976, Technology Dynamics Inc. serves the US Military's largest prime defense contractors, as well as many heavy industry and transportation authorities. The following chart represents the various divisions and subsidiaries of the company.
NBS is an autonomous division residing in a stand-alone building in Bergenfield, NJ, and has its own engineering and manufacturing capabilities. NBS can also draw on the resources of the parent company in terms of engineering, metal fabrication, machining, transformer fabrication, and many others capabilities.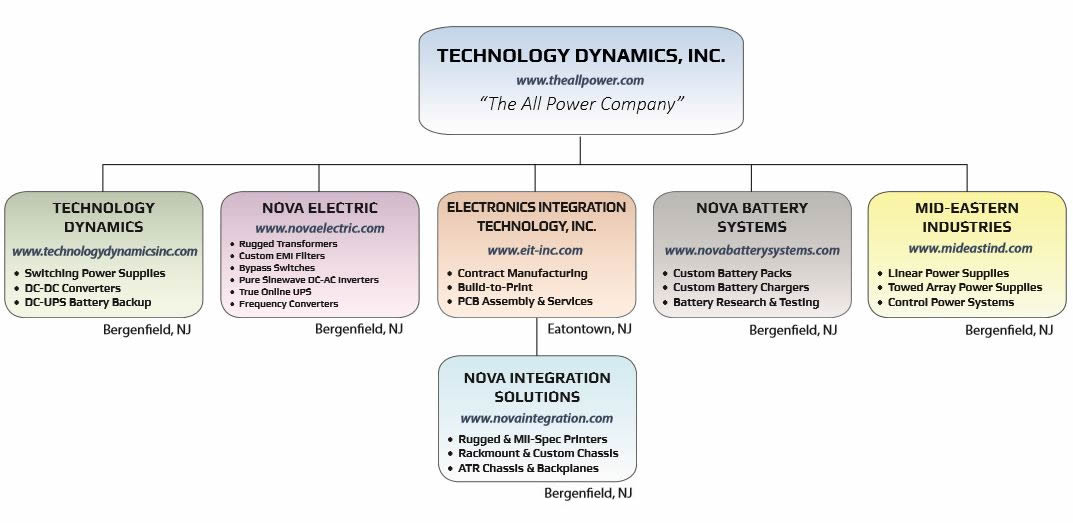 Technology Dynamics Inc. along with its Nova Electric, Nova Battery Systems, and EIT Divisions resides in 4 buildings of 70,000 square foot in Bergenfield and Eatontown NJ, near the metro New York City area.
IN HOUSE CAPABILITIES
Electrical and mechanical engineering
Sheet metal fabrication
Transformer parts manufacture and assembly
PC board assembly
Final box assembly
Test facilities including vibration and temperature
Research and Development
Continuous technology development
EMI product assembly
Full battery electrical testing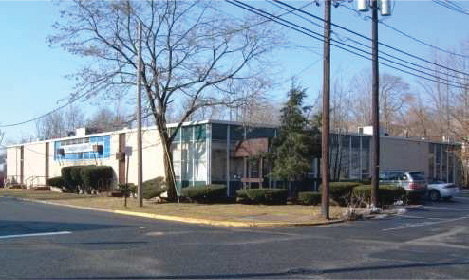 NOVA ELECTRIC & TECHNOLOGY DYNAMICS
BERGENFIELD, NJ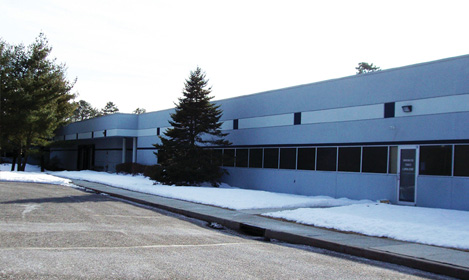 ELECTRONICS INTEGRATION TECHNOLOGY INC.
EATONTOWN, NJ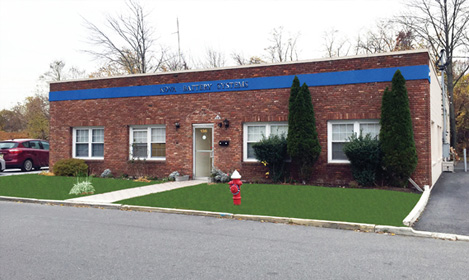 NOVA BATTERY SYSTEMS
BERGENFIELD, NJ
Company Structure
Technology Dynamics Inc. (TDI): Established in 1976, TDI manufacturers High Reliability Switching Power Supplies, DC-DC Converters, and DC-UPS Systems in the range from 50 watts to 50KW. With a vast library of over 4,500 Standard, Modified, COTS and Full Custom field proven designs, TDI can support any application found in commercial, industrial and military programs. While many companies offer consumer based products modified to meet certain "rugged" applications, TDI's products are designed from inception with harsh industrial and military environments in mind. TDI's products can also be found in various Military programs including Ground Mobile Shelters, Shipboard and Airborne platforms with products qualified to MIL-STD-810, MIL-STD-461, MIL-STD-1399, MIL-STD-704, MIL-STD-167, MIL-STD-740 and MIL-STD-901.
Nova Electric: Founded in 1966, Nova Electric manufacturers rugged UPS Systems, DC-AC Inverters Solid-State Frequency Converters, Bypass Switches, Custom Transformers, and Custom EMI filters in power levels from 120VA to 500+ KVA, designed for use in severe environment military and heavy industrial applications. Typical military platforms including shipboard, submarine, vehicular, and airborne powering communication systems, shelters, and critical gear with products qualified to MIL-STD-810, MIL-STD-461, MIL-STD-1399, MIL-STD-167 and MIL-S-901. Typical industrial applications include commercial utilities, mines, steel mills, airports, nuclear plants, and other severe environment applications.
Mid-Eastern Industries: Founded in 1958, Mid-Eastern Industries manufacturers High Precision Linear Power Supplies for commercial, industrial and military applications. Mid-Eastern Industry's products boast advanced and innovative technologies, making the company's the leading choice for Naval sonar systems, universities, and laboratories.
Electronics Integration Technology, Inc.: (EIT) is a full-service Contract Manufacturer specializing in Ruggedized COTS and MIL-Spec electronic assemblies. Areas of specific expertise include surface mount (SMT) and mixed technologies PC boards, complex box assembly, systems integration, and testing services. The company specializes in delivering high mix small to medium production runs with fast and accurate prototyping. EIT handles consignment kits all the way through complete turnkey projects, and can perform all phases from design to manufacturing to testing. These capabilities ensure defect-free final products delivered on schedule, and within budget.
Nova Integration Solutions (NIS): NIS is an innovative leader in embedded rugged electronic systems for mission computing platforms deployed in extremely harsh environments.  Our world class engineering team has a deep expertise in customizing electronic enclosures, including the design and manufacturing of "Mission Critical" custom electronic enclosures and rugged chassis. These products are most commonly used in military shelters, ground mobile vehicles (LRUs,) on aircraft (ATRs,) and on servers designed for maritime ships. NIS has a robust family of reference designs and standard products designed to meet most Military applications. Nova Integration Solutions products feature rack mount enclosures, rugged printers ATR enclosure, rugged enclosure, custom electric enclosures, rugged chassis, ATR chassis, COTS chassis, embedded systems and MIL-RCOTS chassis. Nova Integration Solutions services also includes backplane design, power supply design, enclosure design, thermal analysis, MIL-SPEC manufacturing, systems integration and environmental/functional testing.
Nova Battery Systems (NBS): NBS specializes in the design and manufacturing of battery packs, chargers and Safety Testing of battery systems for commercial, medical, industrial and military applications. NBS provides a range of products and cell technologies, including rechargeable and non-rechargeable battery packs from  0.2Ah to 28Ah in standard, modified and fully custom configurations. In addition to battery packs, NBS provides a full line of standard, specialty, fast and super-fast chargers and Battery Maintenance Stations. NBS also provides UN and military safety testing on complete battery packs.